Diploma in Professional Hairdressing (Level 2 Apprenticeship)
Put into place the hairdressing skills you see at work in the salon - earn and learn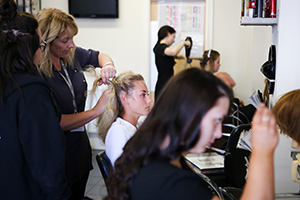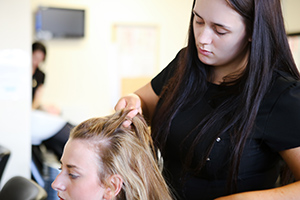 Description
Apply Now
What will the course involve?
How shampoos and conditioning products affect the hair and scalp.
Basic cutting hair including one length, fringe cutting, precision cutting techniques, scissor over comb, texturising, layering, graduation and clipper work and working with the natural growth patterns of the hair, cutting angles and resulting weight distribution, and balance and the degree of graduation.
Style and finish hair create a look including blow drying, hair-up styles, setting and dressing, finger drying, plaiting/braiding and twisting and current techniques for drying and finishing hair.
Colour and lighten hair complete a range of woven highlights including T-section, half head. Full head using temporary, semi-permanent, quasi-permanent, permanent colour application, and basic colour change (depth and tone) techniques, the principles of colour selection and when to use the different types of lighteners and toners available.
Customer service you will greet clients in a friendly manner and be courteous at all times; undertake wider salon duties, including reception duties where appropriate and always work safely and hygienically.
An Apprentice is professional and has a passion for the industry; a commitment to quality, a positive attitude and shows a willingness to learn.
Entry requirements
To be an Apprentice you will be employed in a salon – ideally you will find a job in a salon but if not The Academy can help you find a job in a salon.
If you do not hold a C in English and/or maths you will be required to study Functional Skills as this is part of the course.
You must attend enrichment activities including competitions and additional courses.
Equipment
You will need a kit and uniform which we will explain at interview. If you are worried about paying towards a kit please talk to us.
Assessment
General comments
You will need to have excellent attendance and will come to The Academy 1 day a week, then attend work on other days. This qualification includes an end point assessment in both practical and theory.
What will the course lead to?
You could continue your studies in hairdressing to Level 3. Another option is to go down the barbering route or you may wish to develop skills in beauty therapy.
Read Less
Apply Now
---
Apply for Diploma in Professional Hairdressing (Level 2 Apprenticeship) Course
Hairdressing Case Study
Carly Rackham
Apprentice at Donnelles Hair Studio in Seamer
Carly originally trained as a dancer but when she had a family she decided on a change of career and chose hairdressing. As part of her apprenticeship studied at The Academy one day a week on Level 2 Hairdressing. After winning a place at The Academy hair and beauty competitions in January she competed at the AHT Regional Heats in Gateshead and then went on to compete at the AHT National Finals where she won 2nd place - a fantastic achievement. Well done Carly!