Details may be subject to changes due to awarding body updates
Diploma in Professional Barbering (Level 2 Apprenticeship)
Ideal course for anyone with an interest in men's hairdressing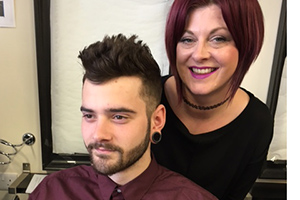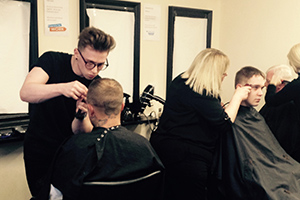 Description
Apply Now
What will the course involve?
How shampoos and conditioning products affect the hair and scalp.
Cutting using barbering techniques using a range of equipment incl. scissors, clippers, razors, trimmers and clipper attachments taking into account hair characteristics and head and face shape. Techniques include club cutting, scissor over comb, clipper over comb, freehand and texturising.
Creating a variety of looks square layer, uniform layer, graduation, with fringe, with parting, around and over the ear, with fade and flat top. Necklines include tapered, square and skin fade. Finishing techniques include styling, brush drying, blow drying and product application.
Professionalism and communication meeting and greeting clients, being helpful and courteous, client care, making appointments, taking payments, selling and recommendations.
Cut facial hair tapered beardline, full beard outlines, moustache, brow trim, partial beard and moustache and full; beard, styling products include wax and oil.
Shaving full shave, partial shave using creams, oils, gels and soap.
An Apprentice is professional and has a passion for the industry; a commitment to quality, a positive attitude and shows a willingness to learn.
Entry requirements
To be an Apprentice you will be employed in a salon – ideally you will find a job in a salon but if not The Academy can help you find a job in a salon.
If you do not hold a C in English and/or maths you will be required to study Functional Skills as this is part of the course.
You must attend enrichment activities including competitions and additional courses.
Equipment
You will need a kit and uniform which we will explain at interview. If you are worried about paying towards a kit please talk to us.
Assessment
General comments
You will need to have excellent attendance and will come to The Academy 1 day a week, then attend work on other days. This qualification includes an end point assessment in both practical and theory.
What will the course lead to?
You could continue your studies in barbering to Level 3. Another option is to go down the barbering route or you may wish to develop skills in hairdressing.
Read Less
Apply Now
---
Apply for Diploma in Professional Barbering (Level 2 Apprenticeship) Course
Barbering Case Study
Jed Wilkinson-Blackwell
Jed worked in various jobs after leaving school and soon decided he wanted to be a barber. As an apprentice at Black Flag Barbers in Bridlington he worked there and came to The Academy to study Level 2 Barbering. Jed represented The Academy at a Regional AHT competitions in the Barbering category, he then went on to compete at the national finals in Blackpool. He has enjoyed learning new skills and hopes to go on to study Level 3 Barbering in September. As part of his course he passed Functional Skills in English and maths.