Barbering - Level 2 Technical Certificate
Great way to learn those gents barbering and grooming techniques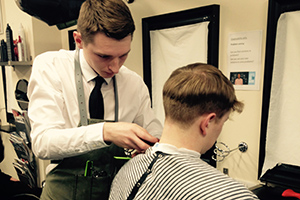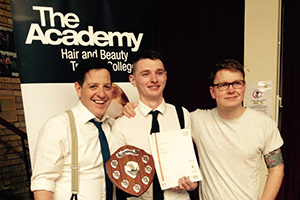 Description
Apply Now
What will the course involve?
You will cover the range of essential practical skills and knowledge which will help you get a job in the barbering industry:
Working safely in a barbers/salon
Communication techniques and advising clients
Cutting men's hair
Cut men's hair to achieve a variety of looks
Dry and finish men's hair using different brushes and products
Prepare shape to facial hair
Create outlines and detailing using razors, clippers and trimmers
Entry requirements
You must have a keen interest in the industry, want to work with people and have excellent attendance.
You must meet deadlines and be committed to your course.
GCSE maths and English A - C grade is preferred. If you do not hold a C in English and/or maths you will be required to study these further as this is part of the course.
You must attend a work experience placement each week, you will take part in enrichment activities including competitions and additional courses.
Equipment
You need a basic kit and uniform which we will explain at interview. If you are worried about the costs of coming to college please talk to us and we can see if you can get a bursary.
Assessment
Practical assessment on clients in our training salons and questions in class.
You will complete some assignments and may need to work towards Functional Skills or GCSE. You will take an end of year exam.
General comments
You will need to ask friends and family to come in so that you can practice and do practical assessments. We will invite you to taster sessions and give you an advice and guidance interview before you start the course to make sure this is the correct route for you and allocate any support.
What will the course lead to?
could progress onto another course or you may wish to do hairdressing or get an Apprenticeship in a salon/barbers. Another option is to work or do further qualifications that could lead to teaching/assessing and higher education.
Read Less
Apply Now
---
Apply for Barbering - Level 2 Technical Certificate Course
Barbering Case Study
Jed Wilkinson-Blackwell
Jed worked in various jobs after leaving school and soon decided he wanted to be a barber. As an apprentice at Black Flag Barbers in Bridlington he worked there and came to The Academy to study Level 2 Barbering. Jed represented The Academy at a Regional AHT competitions in the Barbering category, he then went on to compete at the national finals in Blackpool. He has enjoyed learning new skills and hopes to go on to study Level 3 Barbering in September. As part of his course he passed Functional Skills in English and maths.